The pre-baking of flex printed circuit boards (PCB) immediately prior to assembly is an industry standard requirement that is documented in IPC2223 sec 5.3.5, IPC-FA-251 sec. 3.2.1.1.2 and by material suppliers (i.e. DuPont Pyralux Technical Manual sec. 5.23). This applies to all polyimide-based flex and rigid–flex designs. But why is pre-baking done prior to assembly, rather than earlier in the circuit board manufacturing stage?
The majority of flex circuit designs that require some level of component assembly are manufactured from polyimide materials. Polyimide is used for the flex core, the coverlays, and in many cases the stiffeners as well.
A natural inherent property of polyimide is hydroscopic. It will adsorb approximately 2% by weight in moisture at 20°C and 50% relative humidity. This can increase under higher humidity and temperature environments. This applies to all polyimide materials from any and all suppliers and is not a property than can be impacted or modified by the flex circuit manufacturer.
Moisture Absorption in Polyimide Materials
While moisture absorption does not impact the mechanical and electrical characteristics of the polyimide materials, it does create a situation when the parts are subjected to high temperatures seen during assembly re-flow.
Specifically, absorbed moisture can, and in most cases will, convert to steam during re-flow. As the moisture changes from a liquid to a gas state it expands, which will then cause a delamination to occur between layers in the parts. This has become a greater issue with the increased temperatures of RoHS requirements.
The only viable solution in preventing delamination during assembly is to pre-bake the flex or rigid–flex parts immediately prior to the assembly process to ensure that the parts are 100% free of moisture.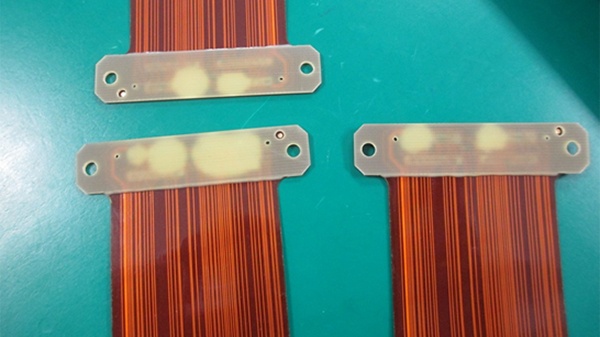 Delamination between FR4 stiffener and flex circuit.
Failure to remove all moisture is the primary cause of coverlay delamination, layer to layer delamination and stiffener delamination.
Flex PCB Pre-Baking Process
PCB baking is typically performed at 120°C for 2-10 hours. The duration of the pre-bake will vary depending upon the design of the specific parts. Layer count, stiffeners, and construction are factors that will increase the pre-bake time required. In addition, the parts need to be positioned within the oven so that there is sufficient air flow around each part.
Once the parts have been prebaked it is recommended that they be assembled as soon as they have been removed from the oven and have cooled to a workable temperature. Any significant delays will allow the parts to reabsorb moisture.
For flexible circuit boards that require multiple assembly cycles, a second pre-bake may be required if there is an extended period between assembly cycles.
Summary
To pre-bake flex PCB parts at the circuit board manufacturing stage is not a viable or practical option. Flexible circuit boards that are shipped vacuum packed with a desiccant will still contain moisture and will require a pre-bake. Pre-baking the parts well in advance of assembly and then storing the parts in a "dry box" is also not a recommended practice when avoiding technical issues in your flex orders.