When we sat down in 2005 to develop our IT infrastructure plan for the company, I was unsure of why we spent so much time evaluating every investment in terms of what we would do in case of a disaster. Well this winter, I found out why that was so important.
While not technically a disaster, New England had the most snow that we have had in over 20 years (with more to come it appears).
We had 10 days where the kids had no school and each time more than 5 inches of snow covered the roads making driving impassible. Keeping our employees safe and making sure they did not spend hours in their car trying to make the 10-20 mile drive into work was a huge priority. Before 2005, all of these issues would have caused our company to close down, meaning that we would not be able to service our customers in the way that they have come to expect.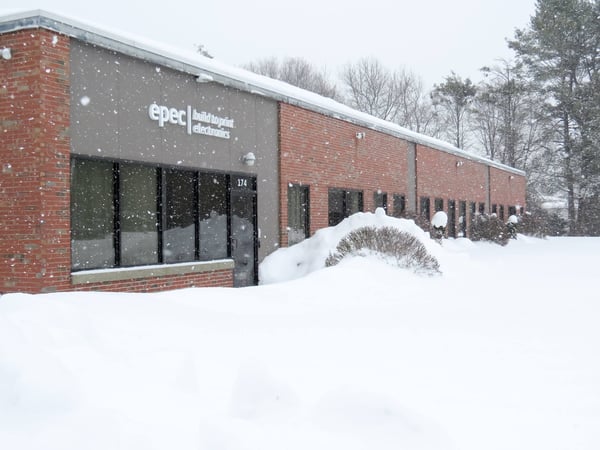 Epec Engineered Technologies Headquarters Covered in Snow
Results of Disaster Recovery Planning in the Manufacturing Industry
Because our team spent so much time developing our disaster recovery plan we were able to operate at 100% even though the snow kept coming. Some of the things that allowed us to continue to operate included:
Having a cloud based ERP system and the balance of our IT infrastructure located at a secure offsite data center with backup power meant that we didn't have to worry about our employees being able to get into our system and manage customer's quotes, put in orders or get other information.
Our investment in our state of the art VOIP phone system allowed us to transfer our main incoming phone number to our location in Largo, Florida. When the phone was answered in FL it was transferred back to the employee's cell phone with the caller never knowing. This allowed many of our employees' to work from home and be very productive.
98% of our employees have company laptops making it possible to work remote. With a handful of state of emergencies declared over the past months, we ensured our employees were able to work from home for their safety.
Having such a deep relationship with UPS allowed us to work with them very early every day to best understand their plans. Having a 5am call with the Regional Operations people gave us insight as to how to best plan our shipment schedule to meet customer requirements. If we knew that they were going to be pulling their drivers off the road because of unsafe conditions, we would make sure that our shipments were picked up well before that.
These are just a few of the things that allowed us to keep operating, along with the fact that because we have multiple locations in the US to provide backup if necessary.
Conclusion
While all of us here in New England have all had enough of this snow, it's good to know that even in the worst conditions, our disaster recovery plan holds up to a disaster itself. Without firm disaster recovery planning, manufacturers risk creating more problems in an already unforgiving industry.