The major difference between a stranded cable and solid cable is the flexibility. Within this post we will define cable flexibility with regard to ability to withstand continuous movement. Depending on your application, cable flexibility can be a factor when choosing the proper components for your cable assembly or wire harness.
Solid Cables
The aesthetic differences between solid and stranded cables can be clearly seen in the image below. Solid cables consist of a single solid strand of metal wire. Because solid equates with more rigid, it is best suited within an application that doesn't require much flexibility.
Stranded Cables
A stranded cable is composed of several small wires grouped or wrapped together to form a larger conductor. The stranded variety is a more viable option when an application requires flexibility.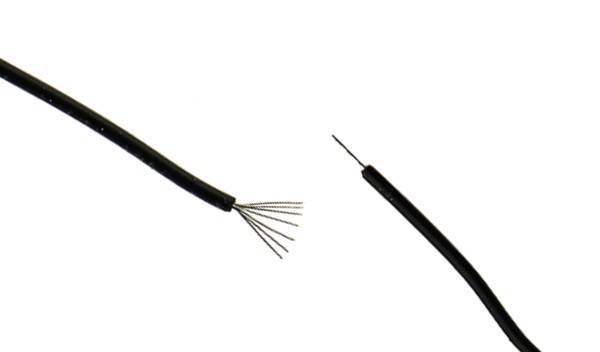 Example of a Stranded and Solid Cable
Tieing up loose ends...
Stranded cables were developed as the solution to overcoming rigidity concerns of solid wires. Increasing the number of strands of a conductor while decreasing the size of the individual strands allows for a more flexible cable. The use of stranded conductors allows the cable to be more flexible, aiding in the routing of a cable as well as tightening the bend radius of a cable.
Using a stranded conductor permits a cable the ability to withstand repeated flexing and constant movement. A cable diameter will increase when stranded conductors are used.
Need more information? Learn everything about Epec's custom cable assembly offerings!