Revision control is the method by which manufacturers and engineers keep individual parts or assemblies documented and tracked. A more simplified definition could be that revision control is a part's road map. In the world of manufacturing electronics, it is critical that revisions of any product are properly maintained and controlled.
You can end up making very costly, yet avoidable, mistakes if revision control is not taken seriously. No one wants to waste time or money if they can help it, but how can proper revision control help mitigate that?
In this blog post, we will break down what revision control is, what the costs of poor revision control are, and how proper revision control can help streamline product development.
Revision Control for Manufacturing
Revision control is a method for documenting and maintaining a part's current status as well as its history. Whenever a product is released or changed, it will always have a revision level associated with the release or change. Eventually, that part may have to be changed in one way or another for whatever reason, and when that happens, where and how do we document the change? The answer to that is hopefully simple: the part's engineering drawing.
Engineering drawings are the absolute source for a part's revision level. Engineering drawings will always have the revision level for the part indicated somewhere within the title block (beware the difference between revision level and drawing size as typically these will be similar alphanumeric codes).
Additionally, properly created engineering drawings will also include a revision table. The revision table is the best source for all of the details surrounding a part's revision history. This is because the revision table never removes/loses information; it only ever grows. The revision table will show the reader how many changes a part has undergone, why those changes were made, when they were made, and who approved them. As robust as all of this information is, the critical caveat will always be the person actually making and documenting the change to a specific part. If the person in charge of revision control is not up to the task, the consequences can get very costly.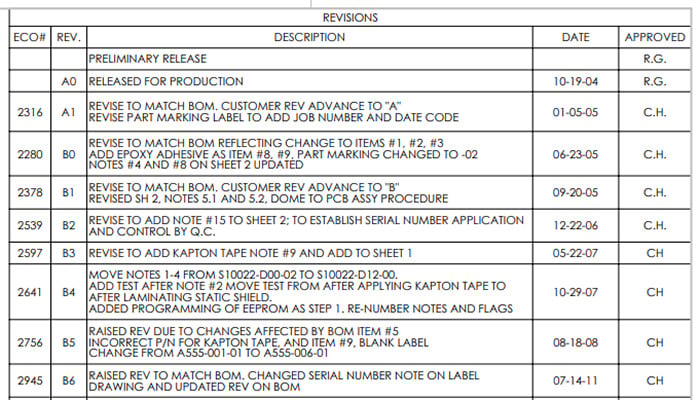 Example of revision table in an engineering drawing.
Risk vs. Reward
The greatest risk to proper revision control is human intervention. If someone makes a change to a part and does not document it within the revision table, how does anyone know the change was made?
Valuable engineering time could end up being wasted just trying to track down whether the requested change was made, as well as trying to determine why the change was made in the first place. What if you suddenly have to review an old product? Having a properly maintained revision control system could be the difference between a day's or a week's worth of engineering time getting the part to the production floor.
Another major cost associated with poor revision control is actual cash. If a part's revision is not properly documented, how does one know whether or not the correct version of the part is being purchased? No one will be pleased if thousands of dollars of purchased parts have to be scrapped simply because the revision level of the part got omitted. Not only will parts have to be re-ordered, but now you have lost however much time it took to get the first order of parts, plus the time it will take to re-order the correct parts at the desired revision. Knowing now what the potential costs are, what is the value added in having a good revision control system established?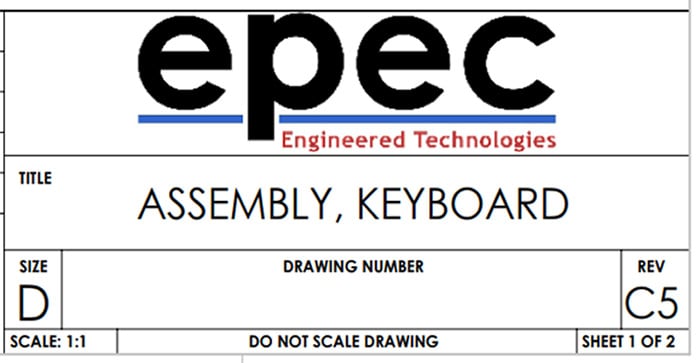 Example of a title block in an engineering drawing.
Revision Control System
By incorporating an effective revision control system, you can streamline the part's ordering process as well as greatly simplify product development. With a proper revision control strategy in place, no time will be spent hunting down historical data on a given part. The entire part's history will be immediately accessible within a properly maintained revision control system.
Accurately reflecting what the part's current revision level is also helps with ordering subsequent parts. Attaching the desired part's revision level to a purchase order line greatly reduces the chance that the wrong parts are ordered. Another benefit to having good revision control is the ability to revisit previous designs of the part. For example: if you have a part at revision B4, and over the course of time it is decided that the part worked better when it was at an earlier revision, you will have two options moving forward.
With a good revision control system, you can pull the part drawing and identify what changes have been made throughout the part's history and either roll the changes back or specifically call out the earlier revision that is desired. The second (less desirable) option would be to completely remake the part from scratch to meet the new desired needs. I think you will find that the first option will save you a considerable amount of time as opposed to the second.
Summary
A properly managed revision control system will allow your engineering team to identify where a part is in its design lifecycle as well as tell you why it is the way it is in its present configuration. Once a revision control system is place and working well, you can then expand on it. For example, numeric-only revision levels could be reserved for specifically development parts; once released, they get an alphabetical character added to the revision level. Be careful not to over complicate your revision control system. Always remember the end goal of good revision control is simplicity: what is the current state of the part, and how did it get to this state.