Applications that rely on printed circuit boards (PCBs) to control functions can experience difficulties when having operating components or when designed in slimmed or smaller sizes. Standard rigid circuit boards have to be made in specific sizes and dimensions, which can make it difficult when designing working components that could scrape against and damage the PCB.
Instead, flexible printed circuit boards provide ideal solutions for applications in a wide range of industries such as electronics, aerospace, automotive, healthcare, telecommunications, and many others.
A flexible PCB is made from dielectric substrate film materials that can bend and twist without breaking. The electrical traces are etched into the surface, which is then covered in a protective coverlay or cover coat. Flexible PCBs come in single-sided, double-sided, and multi-layered designs. They can also be combined with traditional rigid circuit boards to make rigid-flex circuit boards. There are many advantages and disadvantages to flexible PCBs. Understanding the pros and cons can allow you to decide whether they will work for your specific application.
Pros of Using Flexible Circuit Boards
Flexibility
The main advantage is its flexibility. You can flex the circuit board to install without having to build around the circuit board as you would do with the rigid version. This flexibility is throughout the entire board, and it stays flexible for its entire lifespan. You do not have to worry about the materials becoming rigid with age to impact the working components inside certain applications. You are able to bend the board into unusual shapes to match the interior shape of the applications as it can twist and bend around corners without snagging on parts.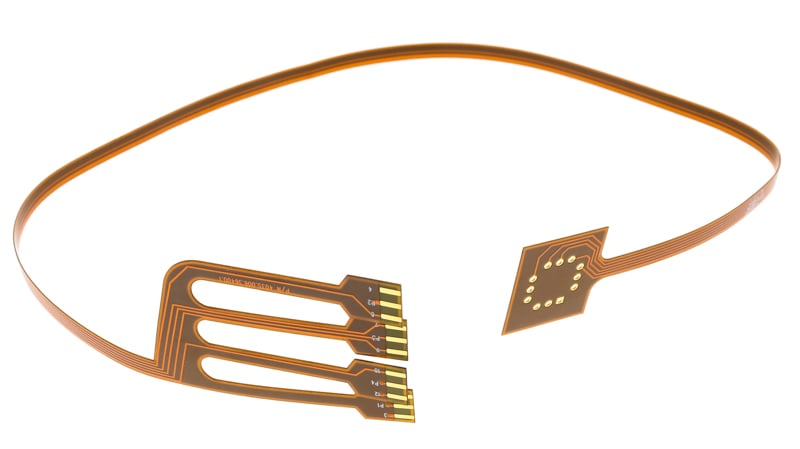 Example of a thin, unusual shaped flexible circuit board.
Space and Weight Efficiency
A flexible PCB is lighter and has a lower profile than a rigid board. Instead of making the application with extra room for a rigid board, you can make slimmer dimensions to accommodate a flexible PCB. This aspect helps manufacturers reduce material waste while optimizing the interior space to have the components that are necessary to perform the specific function.
Another advantage is that a flexible PCB does not add a significant amount of weight to the application. So, you do not have to reinforce the interior to support the flexible PCB and you can meet the required weight dimensions that are required for the PCB. This advantage is often necessary for industries such as wearable technologies, medical devices, and aerospace applications. Adding extra weight to the device could cause problems when it is part of a larger assembly. A flexible PCB can help you avoid this issue.
Replaces Components and Cable Harnesses
Due to the flexibility of the PCB, you do not have to add on components or additional rigid PCBs to perform specific functions simply because they cannot get around other internal components. A rigid-flex PCB can be used instead as it can entirely replace cable harnesses. Rigid-flex PCBs can be thinner than traditional cable harnesses, optimizing the space and weight of internal components.
To attach a flexible circuit board to a rigid board, ZIF connectors can be used. These ZIF connectors have a wide signal range, such as low-level signals, a high current, and high-speed controlled impedance.
Cons of Using Flexible Circuit Boards
Initial Higher Cost
Due to using flexible materials and being newer technologies, rigid-flex and flexible PCBs cost more to build and have longer build cycles. The cost of materials used for the PCBs is also typically higher. These higher costs may be prohibited for certain applications, where the materials and manufacturing of the device are cheaper than the flexible PCB itself.
Limited Component Densities
While flexible PCBs have slimmer profiles, there are still limits to the component densities. They cannot be made into very long or very wide widths. This flexibility in tight areas may require a reworking of the components to make lower profiles, or you may have more selective component placements, to accommodate the flexible PCB. You also have to be careful as the flexible PCB can be more prone to damage during handling.
Increased Design/Stack-up Complexity
As the design and stack-up of the flexible PCB increases, so does its complexity. There are several rules and guidelines to follow for flex PCBs to prevent damage and malfunctions. These rules are exclusive to flexible-priced circuits.
No plated through hole vias placed at bend areas.
Avoiding 90-degree bends can increase the likelihood of damage.
Conductors (smaller than 10mils) should be placed on the inside of the neutral bend axis and be perpendicular to the bend.
Conductors should be staggered on multi-layered circuits.
You also need to consider the types of coverlays, flexible solder mask, stiffeners, and adhesives that will be used for flex PCBs. These materials will differ from those used of rigid PCBs, which can increase costs and change the thickness of the board.
Summary
Flexible printed circuit boards are becoming the go-to component for equipment that needs to be lightweight, small, and thin. These circuit boards can provide a wealth of benefits to allow applications to function properly without having to be designed larger or heavier to accommodate more traditional rigid PCBs.
Care must be taken to address many of the common issues associated with flex and rigid-flex circuit boards so these problems will not be detrimental to the design or manufacturing of the circuit board or to your available budget.