It is important to be aware that certain applications will have battery packs that may be exposed to corrosive elements such as acidic, salt, and on occasion conductive substances and fluids. Over time this type of exposure can slowly corrode the PCBA, components, and solder joints. This type of corrosion can cause premature failure, short circuits, and or dangerous conditions that could lead to fire or even an explosion.

What Is Conformal Coating?
Conformal coating is a protective chemical coating or polymer film 25-75µm thick (50µm typical) that 'conforms' to the circuit board topology. Circuit board conformal coating is designed to protect electronic circuits from harsh environments that may contain moisture and or chemical contaminants.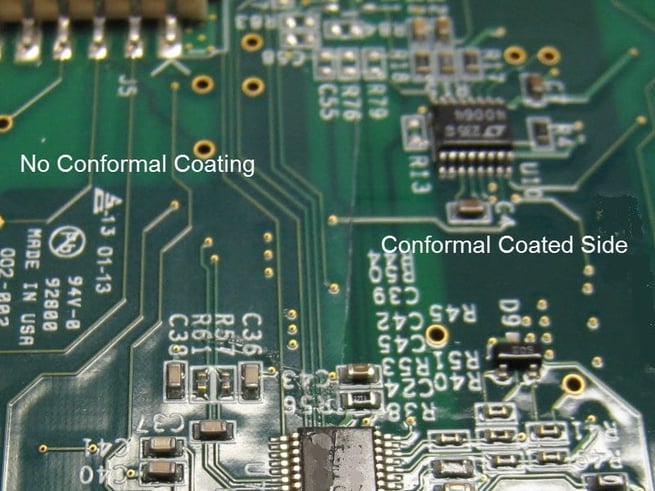 Conformal Coating Shown As A Clear Gloss Coating On A Printed Circuit Board
Common Uses of Conformal Coating
Conformal coating is a method commonly used to seal or prevent corrosion and other damage from external contaminants that come into contact with electronic assemblies over time. The battery pack may also be used in applications where high humidity levels are a factor. Most enclosures are designed to keep out contaminants however, there is always a potential of moisture, especially in tropical or humid climates.
The conformal coating can also be used to withstand a higher electrical field in high component density designs. As a benefit, battery pack designs with higher voltages can be made smaller because of the insulative effect of the coating. PCB conformal coating is usually sprayed on the circuit board and components (or sometimes brushed on or dipped when a thicker coating is desired). This will create a non-conductive seal between the components and circuit board to the outside world. This seal will prevent the electronic circuitry from being damaged when the application requires the battery pack to perform or is exposed in adverse conditions.
Battery Pack Conformal Coating Process
The usual order of operations is to first test the populated circuit board functions, then tape or mask off the areas where the coating is not desired. This can be accomplished with the use of a temporary stencil or basic tape if the application allows. Then spray the coating on in an even uniform thickness and wait until dry. Once the PCBA is coated and has dried, the cell pack can be installed and final assembly completed. The completed battery pack can now be sent to the final pack level test step, confirmed, packaged, and shipped to the customer.