Apple's lightning cable is a proprietary connector type that is used on various Apple devices like the iPhone, the iPod Touch (starting with the 5th generation), the iPad, the iPad Mini, and the iPad Pro. It was originally released in 2012 and replaced the 30-pin connector that formerly shipped with these devices.
As was true with that previous cable type, the lightning cable can be used both for the purposes of charging the device and for data transfer from one device to another.
If you've been following technology news over the last year or so, you've no doubt seen chatter that the lightning cable may soon be going away. But why might this happen, and what will happen to all the devices you want to continue to use that employ lightning? What are your options for sourcing these cables after they're gone? The answers to questions like those require you to keep a few key things in mind.
Are There Customized Versions of the Apple Lightning Cable?
Apple sells various versions of the lightning cable in different lengths (typically measured in meters) for users to choose from, but the longest length that they sell officially is two meters.
Thankfully, 3rd-party manufacturers do sell customized versions in much longer lengths for people to choose from. Likewise, at Epec, we are just one example of the providers out there who have the skills and the resources necessary to customize cables in Apple's lightning standard in any way a customer needs, no matter what.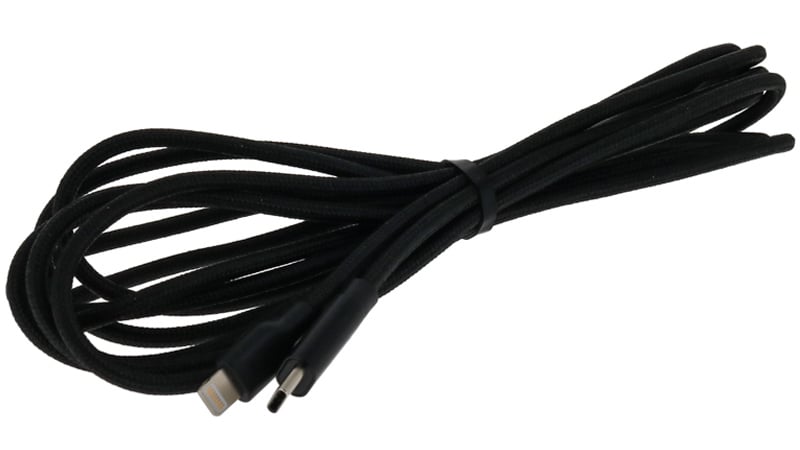 Customized version of the Apple lightning cable.
What Forced Apple to Change Its Plans to Use Lightning Cables?
Officials in the European Union have been working on what has become known as the Radio Equipment Directive for some time. When enacted, it will require technology companies like Apple to use a single port standard across the entirety of the products it releases. That includes not only the iPhone and iPad, but also devices like the various Mac computers as well.
This is notable because it largely prohibits the use of proprietary charging methods, of which Apple's lightning cable has been hailed as the chief example. This is a priority in the European Union largely because people are tired of having so many different types of chargers around their homes and businesses and legislators are finally doing something about it.
With that, Apple has two options. They can either design and manufacture a specific version of the iPhone that charges via USB-C that will be sold only in Europe while continuing to sell lightning cable versions in the United States, or they can design a single version that charges only via USB-C that will be sold worldwide.
Most people expect them to choose the latter.
What is USB-C and How Can It Be Used for Charging Electronics?
USB-C, otherwise known as USB Type-C, is a type of cable connection that has become increasingly popular in recent years. Unlike standard USB cables, USB-C is known for being reversible. Instead of being forced to plug one end into something like a charge and the other end into the device you're connecting to, both ends can be used in either configuration.
USB-C is incredibly common outside the Apple ecosystem and is used in a number of modern devices, including but not limited to monitors, laptop computers, charging stations, external hard drives, smartphones, tablets, and more.
It's a robust cable type that was designed to replace not only standard USB cables but also cables like HDMI and even traditional analog audio jacks in many devices. Instead of designing hardware with multiple ports depending on which cable you were trying to use, now they can include just a few or even one USB-C port to accomplish all the same goals in tandem. This has already led to devices with smaller and more powerful form factors and will continue to do so moving forward.
In addition to being able to transmit standard data, including audio and video signals, USB-C was also developed to be a universal charging standard. It doesn't matter what type of charger you're using - it can be leveraged to charge the battery in any device you own that supports the format.
It does this through its support of the USB PD specification. The types of USB cables that we're all used to can deliver a maximum of 2.5 watts of power at any given time when plugged into a charger and a wall outlet. While this is adequate for (slowly) charging a small device like a smartphone, it is less useful for larger devices like laptops.
The USB PD specification, however, increases that to 100 watts. Since your average laptop computer requires approximately 60 watts of power to charge, this is more than enough to get the job done. Likewise, USB-C is bidirectional - meaning that you can use your laptop's battery to charge something like your smartphone, too.
What are the Advantages of Switching All Apple Products to Use USB-C?
While the switch to USB-C will certainly be something of a difficult shift for most Apple device owners at first, especially enterprise users, it is a move that brings with it a wide range of different benefits that cannot be ignored.
For starters, it would finally unify Apple's array of devices in a way that people could never before enjoy. In previous generations, you needed one type of cable to charge your iPhone, for example, and another to charge your Mac. This led to a plethora of different chargers lying around the home or the office.
After the switch to USB-C, you can use a single cable to charge not only your iPhone and your iPad, but your MacBook or MacBook Pro as well. This means carrying fewer chargers with you while you're on the go, which will come as a major advantage for most people.
Likewise, USB-C is an inherently "better" technology than Apple's own lightning cable in some ways. Not only would it allow for the faster charging of devices, but it would also allow faster data transfer speeds as well. This is of course assuming that you're transferring files from something like a Mac computer to an iPhone using a cable as opposed to many of the wireless options that are available like Wi-Fi or AirDrop.
Finally, Apple moving the iPhone and other devices to USB-C would increase compatibility with the wide array of third-party accessories that are available. Right now, many accessory manufacturers have to make a difficult choice when it comes to designing their products. They can choose to release two versions - one compatible with Apple devices and one for virtually everything else that already uses USB-C - or forgo the Apple ecosystem altogether.
Some manufacturers have chosen the second option in the past, leading to incredibly handy accessories like docks and charging stations that are essentially cut off from Apple device owners. This would be less of a problem moving forward, as manufacturers are now free to develop accessories that are compatible with most mobile device owners around the globe.
Will Companies Still Be Able to Buy Lightning Cables After Apple Discontinues Them?
In a word, "yes." Epec, for example, currently has access to all the tooling necessary to make any customized version of Apple's lightning cable that you need. So even when they're no longer being provided by Apple itself, you can continue to use (and charge) all of your old devices without issue. We can also provide custom lengths and other specialized options that Apple themselves currently do not at the moment, allowing you to continue to get the most out of what has undoubtedly already been a significant investment in hardware.
Summary
If you'd like to find out more information about the options available to you when it comes to sourcing Apple's lightning cable after it has been formally discontinued by the tech giant, or if you have any additional questions that you'd like to see answered in a bit more detail, please don't delay - contact the team at Epec Engineered Technologies today.