When creating your SMART user interface design, the operating environment should be taken into careful consideration. Environmental contaminants, moisture, temperature extremes, UV radiation, and overall wear and tear from use in outdoor environments are factors that should be considered before determining material and component selection for your SMART user interface.
Designing A Proper Seal
It is important to understand the type of environment a user interface is going to be operating in if you want to create a design optimized for your unique conditions. You should also be aware of the testing standards your user interface will be required to meet prior to designing an enclosure. A few important factors to consider that will affect the choice of enclosure material and design include:
Exposure to Water, Environmental Contaminants, and Cleaning Agents
Exposure to High and Low Temperature Extremes
UV Exposure
Shock and Vibration
Environmental Protection Standards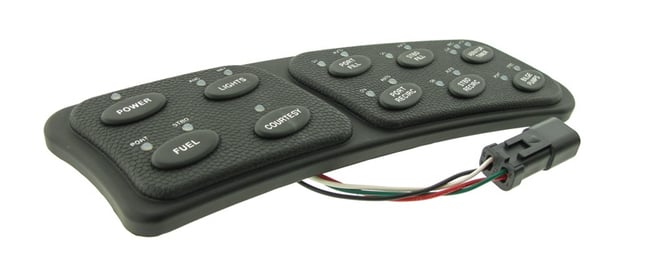 Rubber keypad for a marine application that utilizes discrete indicator LEDs
The enclosure design is one of the most critical elements that contribute to the long term reliability of a system. If the top level assembly will be required to meet IP66 or IP67 specifications, we recommend designing an enclosure with a recessed pocket for the user interface to be mounted to.
We also suggest using an adhesive to mount the user interface subassembly to the enclosure in addition to mechanical fasteners. Mechanical fasteners should not be the sole mounting method since they do not provide a complete seal from any water or dust ingress.
The primary goal of the recessed pocket enclosure design is to allow for a fully sealed unit with as much surface area as possible for the user interface subassembly to bond to, while also reducing the amount of environmental exposure along the sides of the subassembly. The sides of a user interface subassembly are the highest risk areas for delamination and water ingress so it is important to protect them as much as possible.
Popular enclosure materials include aluminum alloys, stainless steel, ABS, and polycarbonate. If a metallic material is selected, surface treatments such as powder coating or anodizing should be considered to add weather and corrosion resistance.
Try to involve your HMI supplier early in the design and development cycle of a new program so you can receive proper input on space and clearance requirements for the enclosure.
Select Robust Materials and Components That Can Withstand Direct Sunlight Exposure
Designing a SMART user interface for outdoor use requires a lot of design considerations in regards to the effects of direct sunlight. Here are the top three items we recommend reviewing:
Specify an overlay substrate and display with a UV hardcoat finish. Ultraviolet rays will quickly degrade and tarnish yellow if unprotected substrates are left in direct contact with sunlight for a prolonged period of time.


Specify a display that is sunlight readable. Displays that are designed to be read in direct sunlight have backlighting with significantly higher luminous intensity than their indoor counterparts.


Use sunlight readable backlighting technology. Indicator LEDs are often a non-issue but larger backlit graphics and icons can present challenges. Higher luminous intensity and thus larger LEDs will need to be used with light guide panel technology to backlight larger areas. This will require a thicker light guide panel (.030" or greater, compared to .010"). Make sure you collaborate with your HMI supplier early in the development process so they can help estimate the amount of space you will need to design into your enclosure to accommodate the overall thickness of your SMART interface.
Select the Proper Switch Technology
It is recommended to use mechanical switches, such as metal domes, for SMART interfaces that must be weatherproof and will be used in an outdoor environment. This allows for the switch to be fully sealed and protected. It isn't recommended to use capacitive touch technology for SMART interfaces that will be operating in a harsh outdoor environment since there will be reliability concerns due to moisture and extreme temperatures.