Business-to-business (B2B) is now more competitive than ever. Remaining competitive in the electronics manufacturing industry requires businesses to change, adapt, and improve. But, there are many barriers to improvement. How does your organization solve problems and drive improvements?
Barriers to Problem Solving
In your organization, do you have effective, finely tuned methods to achieve improvement? Or does something else happen?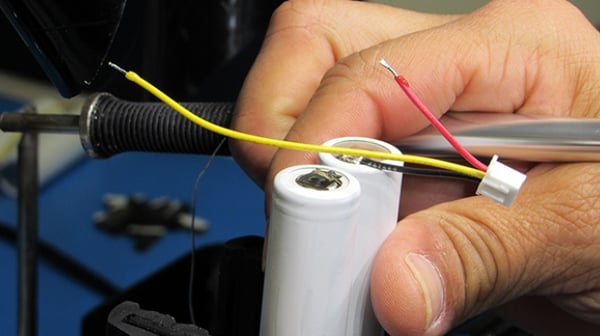 Custom Battery Pack During The Assembly Process
Do improvement initiatives only come from your top management? Does management tend to dismiss small improvements? Or do they assume that improvement comes through large expenditure projects?
Do you get a voice into improvement projects? How about your team? Do they have a say in the improvement process? Are you stuck implementing your boss's ideas? Even though you, or your staff, have better experience dealing with the problem? Are improvement efforts in your organization limited to Corrective Action Requests? Or, is the Six Sigma team the only folks who handle improvement? There are many barriers to problem solving.
We encourage improvement projects at all levels of the organization. We ensure that people who understand the problem take part in our problem solving teams. Good ideas are blind to job titles. Were you to visit us, you would find a traditional CAPA system. Much of the improvement efforts occur outside of the ISO-9001-mandated CAPA process.
Team Dysfunction
Are your problem-solving teams effective? Or do they struggle with these ills:
The loudest person in room gets their way.
Everyone agrees with the boss's ideas.
The team skips over problem-analysis and starts to guess at the solution to the problem.
The team tries to determine the root cause of the problem but with few facts or insight.
All too often in these cases, the team moves forward without understanding the true problem - or its cause. The team then, underachieves and finds a partial solution to the problem at hand. Look in your own organization. These teams underachieve despite being full of hard working, talented, and dedicated individuals.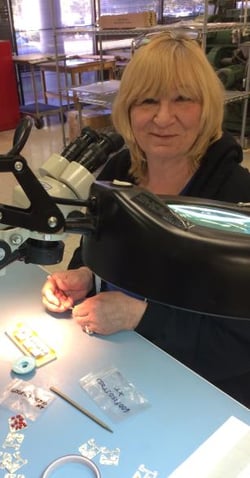 We guard against this kind of team dysfunction. We want the best ideas to win. Ideas don't need to come from only the most belligerent team member or highest-ranking member of the team. We provide our problem solving teams with the best tools and training for the job because we need to ensure that we get the fullest team participation. Many of our problem solving teams thrive and can show a nice record of accomplishment. Our method of choice is the A3 problem solving process, developed by Toyota. At our corporate office, we average one A3 improvement project per year, per employee. How does that stack up against your performance?
Where Did A3 Process Come From?
The A3 report is a component of the Toyota Way – Toyota's model for problem solving and competitiveness. Toyota is the most copied company in the world. Many of their ideas are now part of the business lexicon: Kanban, kaisen, 5S, JIT and so on. Toyota believes that their competitive advantage comes from engaging people throughout the organization in continuous improvement. The A3 problem solving process is their tool for doing just that.
The A3 problem-solving method helps us overcome the common desire to quickly "do something, anything" The A3 approach helps our teams focus on planning and analysis rather than implementing an unthinking solution. The A3 is a problem solving approach that helps the team research their ideas and develop consensus before developing countermeasures to solve the problem.
Problem Solving Story
One thing that sets us apart from many of our competitors is our A3 problem-solving process. When we fall short on a customer requirement, we use this as an opportunity to analyze the problem and make our process stronger. For example, when we found that our document approval and release process was error-prone and slow, we solved this problem via the A3 process. Now we use an approval queue in the cloud. Document approval is now workgroup centric and automated. Now anyone involved can quickly see how their document approval is progressing and the system sends reminders to everyone with an overdue document approval task.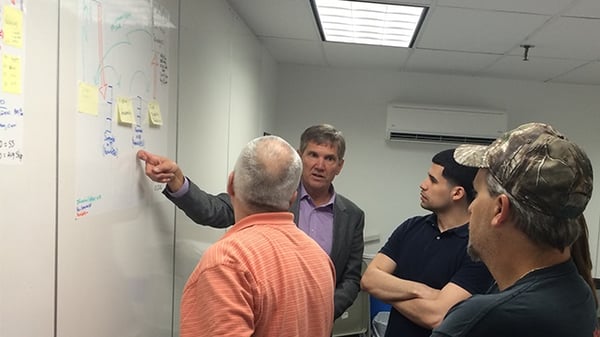 A3 Team Collaborating on Solving a Problem
Consider an organization without this problem solving culture. It is likely that this problem would start a cycle of blame. Eventually management would step in and mandate a fix that solves a small portion of the problem. Maybe, after several attempts, someone would fix the real problem.
The beauty of the A3 is its simplicity. The A3 is a problem-solving story, presented as a logical thinking process. This approach helps others outside of the A3 team to "grasp the situation". The A3 establishes vital points: What is wrong? What is the fundamental cause? Why is this important?
The changes I have seen since embracing the A3 process are:
We make good decisions quickly - All facts are thought out & included in the A3
We have a standard method of communication amongst the A3 teams and management
We focus on logical thinking – we focus on facts and goals rather who's to blame
We are a much better problem solving team – practice makes perfect
Teams are more effective because it's easier to spot errors in thinking
We are much more likely to focus on finding effective solutions to the problem, rather than flinch and react to the problem's symptoms
A3s encourage our teams to ask important business questions:
Why do I think we should do this?
Does it make sense?
Will it improve our current process?
Will it address the root cause of the problem?
How About You?
If you would like to develop an A3 process in your organization, please consider. It is not easy – at first. Your teams will need to understand and practice structured problem solving methods. Also, the teams need practice. Follow up A3 training immediately with A3 assignments. Encourage participation. Celebrate small wins. Mentor the teams. Encourage quick, modest victories, rather than elaborate game-changing strategies.
But after a few victories, I predict, you will wonder why you did not start this sooner.