When submitting your prints for any CNC machined part, there are three key steps to remember to take if you're looking to get your parts delivered in a quicker fashion with the most economical cost. Having all three up front saves time on our end as well as yours, all but eliminating the need for any time-consuming, back and forth conversation.
The more information we are provided, the quicker we turn your product around and ensure prompt delivery using our dual sourcing CNC machining business model.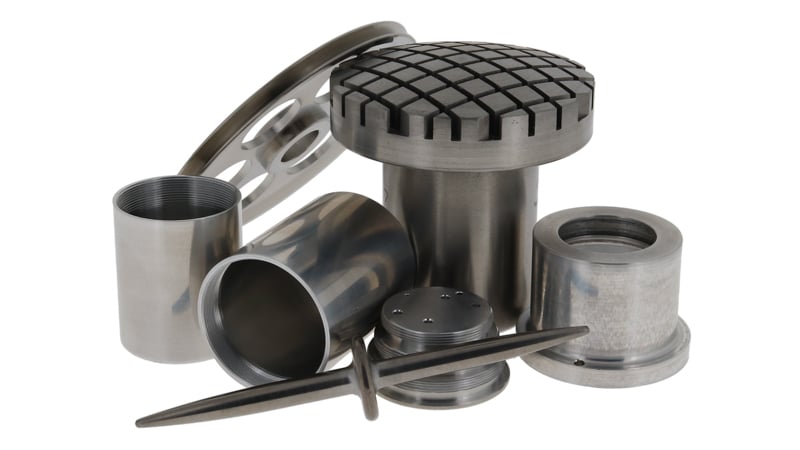 Various CNC machined parts.
Dimensional Drawing
First, a fully dimensioned drawing of the part is required, preferably in PDF format. Second, we need a solid model of the part, and this can come in various file formats. There's no need to list them all here as users understand when they output a file from their CAD software that there are various formats available.
We prefer .stp file extensions but can open most any available format. From a technical standpoint, those are the two most important things we need. The third is a combination of required quantity, estimated annual usage, and timeline.
We get several customers sending in a sketch or some invalid file extension that we can't open. We can open pretty much anything using the NX software, however, some file extensions can't actually be used to dimension. If we only receive a solid model, the material and tolerance callouts are not in there. Or conversely, if they send us a print and it doesn't have all the dimensions on it that we need, there isn't a solid model to reference. This slows us down because then we need to go back and either ask questions or ask for the model or the drawing. As a standard, if we are provided a drawing and a solid model it moves the process along quickly.
Processing of Prints
Again, there's always going to be some sort of work that we have to do with that no matter what we get. But the process is: we get the PDF, and we get the solid model, and then we immediately redline the print. So, when you look at how a machined part gets manufactured versus how a part is designed for assembly as an example, they don't necessarily align with how it gets machined. So, we will start creating notes about how the part will be machined and dimensions that we need in order to achieve the end product. To do that, sometimes we've got to go establish our own tolerances, dimensions, and always our own notes.
When we send the customer the quote, we generally will send the redlined print to make it very clear what we're quoting. Again, it does cut down on some of the back and forth if the customer doesn't actually understand how to machine the part. If you're in a conversation with a buyer versus a conversation with an engineer, those are two different things. If we are to move quickly with our dual sourcing model, we try to be proactive in communicating with our customers so that production can start as soon as possible.
Summary
If you send the buyer back a quote and it says, "Hey, by the way, here's our exceptions or our notes relative to the print," the engineer might get it and say, "Oh, I see you're calling out a press fit for that because we didn't call out that...," whatever dimension it might be. And they may say, "No, don't make it a light press, make it a heavy press," for example. That's where at least the document isn't just throwing a quote back over the fence with a number on it. It's providing the real-world technical information that gives them (on the customer side) an opportunity to review actually how the part is going to get fabricated. And if there are any questions, we have that on record, and when we do get an order, if it's not answered before then, we at least have that documentation that shows where we need clarity on or approval.
Because of our experience with manufacturing CNC parts at our own machine shop, Metal Craft Machining, and managing a low-cost supply chain for CNC and many other products, we truly understand what we need to do to ensure that you get quality parts ever time.