There are a lot of good things happening right now for many folks in the electronics manufacturing industry in the United States. The economy is going strong, unemployment rates are dropping, and there has been growth in the PCB industry over the past four months which hasn't happened since May of 2016 according to the U.S. Purchasing Managers' Index.
While these are all great things for all of us, there is always uncertainty for what the future holds. Here at Epec, we focus on investing in people. You may have heard the slogan "You don't build a business, you build people, and then people build the business" and that is a mantra we live by.
Investing in Employee Success
Not only is it important to invest in equipment and IT infrastructure but investing in your employees' success only helps your business grow.
In 2014, we introduced a new set of core values. We encourage our employees to not only understand the core values but to live by them as well. By having a "Customer First" mindset, our employees are empowered to see a problem and be able to fix it through various problem-solving techniques. When our customers win, we all win.
As part of Epec's on-boarding for new hires, employees attend an in-depth workshop on A3 structured problem solving with a continuous improvement approach. We encourage them to think outside the box, to improve processes, and to grow in their job role.
Continuous Training
Not many companies our size employ a full-time training and development coordinator, but we feel having such a role is a vital part of our company culture. How can you invest in your employees if you don't train them? Just like that old joke in the business world:
Two managers are talking about training their employees. The first asks, "Yeah, but what if we train them, and they just leave?" the second responds, "What if we don't train them, and they stay?"
We currently have an employee training budget of $25,000. We don't just believe in job training, but we believe that any type of training that will help our employees is worth investing in. Even something as small as taking a class to learn to balance a checkbook, a skill that is not common these days, every bit of training helps.
From a manufacturing standpoint, it's more than just having basic skills. Specialization in needed skills is more important than ever when it comes to today's lean manufacturing processes. Our flexible work cell manufacturing strategy means an IPC certified solderer can be working on batteries one day, user interfaces the next, and cable assemblies after that. The key is having that specialized skill set which we can then utilize in any one of our products.
Another area of investment that we believe strongly in is employee knowledge and certification. For example, our custom battery pack group designs and manufacturers battery packs with lithium batteries. As everyone has heard, lithium batteries can cause serious issues during transportation so any person who is responsible for shipping or receiving lithium batteries or products containing lithium batteries must be certified by IATA prior to doing so. This requires a week-long course to get certified, annual refresher courses, and unscheduled on-site inspections by IATA, so it is critical that the employee is well trained in this subject.
Don't Let Further Education Get in the Way
We at Epec believe education is also an important factor, but not just for the younger crowd. If someone wants to go back to school or take night classes to get or finish a degree we don't only encourage them, we help support them as well. Even if it is something as simple as changing their work schedule around to accommodate their class schedule each semester. There have been numerous employees that we have helped make these accommodations for. We like to think of it as a different kind of investment. The cost of education is also something we hear about a lot in the news today, along with what job awaits students after graduation.
In a meeting with our marketing team this past fall we were discussing sending holiday cards to our customers, an annual tradition we have done for many years. The total cost was roughly $5,000 to print custom cards, custom envelopes, and add postage. The idea of taking that expense and repurposing that money became the topic for discussion, and lo and behold the idea of the "Engineers of the Future" came to fruition. The first step in our program to support Engineers of the future was to create a $6,500 scholarship for the local vocational technical high school where seven deserving students from engineering programs received a scholarship award. The $6,500 amount was a meaningful amount to celebrate Epec's 65 years in business.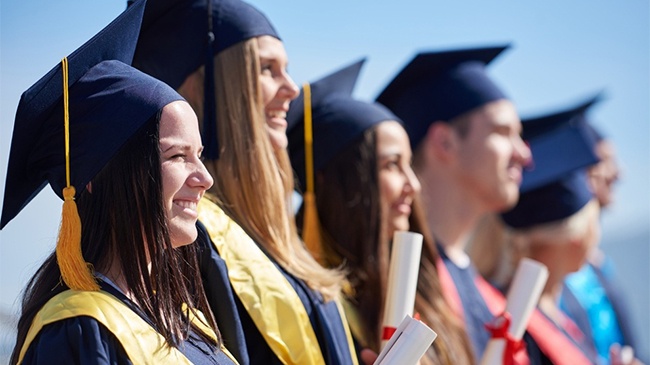 Young Graduates Celebrating on Graduation Day
What the Future Holds for the Manufacturing Industry
There is always uncertainty about what the future holds for the manufacturing industry. One thing is certain, if you don't invest in people and help develop the engineers of the future, our industry will continue to fall behind the rest of the world in terms of our technological advantages. That is why it is vital to make an ongoing effort to support the future. At Epec, we are thrilled to have the opportunity to develop the engineers of the future today.