When placing an order or requesting a quotation for printed circuit boards(PCB), it is extremely important to clearly state all of your requirements as completely as possible.
While this may seem obvious, it is surprisingly common for PCB fabricators to submit a pricing estimate to the customer based on information supplied within the request for quotation, only to receive additional information after pricing and delivery have already been agreed upon and a purchase order issued. If the new information affects the price and/or lead time, the fabricator must notify the customer of the changes in terms. Changes cause a stoppage, resulting in increased work and stress for everybody while the quote and new terms are corrected. Fortunately, it is possible to avoid such situations by including a set of PCB assembly notes specific to each PCB design you order.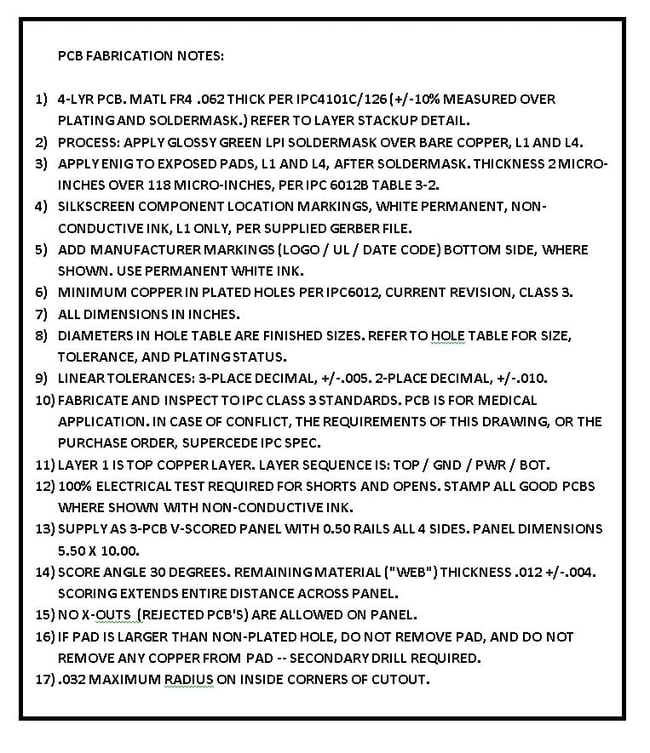 Example of PCB Fabrication Notes
PCB Requirements Stated Clearly from the Start
By correctly stating all of your PCB requirements from the beginning, you can be confident that you will receive an accurate quote with a realistic delivery schedule. This is especially important when you've requested competitive bids from multiple suppliers. In order to make a sound purchasing decision, you need to be confident that each quote is based on the exact same set of requirements; otherwise, valid comparison shopping won't be possible.
Don't Risk Quotes Being Open To Interpretation
Incomplete information about your circuit board leaves the door open for interpretation, which can create some unexpected discrepancies regarding how to deal with unexpressed PCB design requirements. How does this generate pricing differences between PCB manufacturers?
This happens because all PCB suppliers have different capabilities and preferences, so they sometimes make very different assumptions in order to "fill in the blanks" regarding any information that has not been made clear in your documentation.
Printed circuit board fabricators often will not ask for clarification ahead of pricing for fear that delaying a quote will cause them to miss the deadline for submitting their bid. Other companies will intentionally offer you a lowball price based on all of the least expensive options, hoping to lock you into a sale first, only to increase your prices later. This puts honest companies who take the time to ask questions in order to achieve the most accurate quote at a competitive disadvantage.
Even when every company behaves ethically, the difference in assumptions between PCB suppliers can affect the quoted price to the extent that it appears each supplier quoted a different circuit board part! This is especially true when the assumptions involve either the laminate material or the surface finish, as both are significant cost drivers.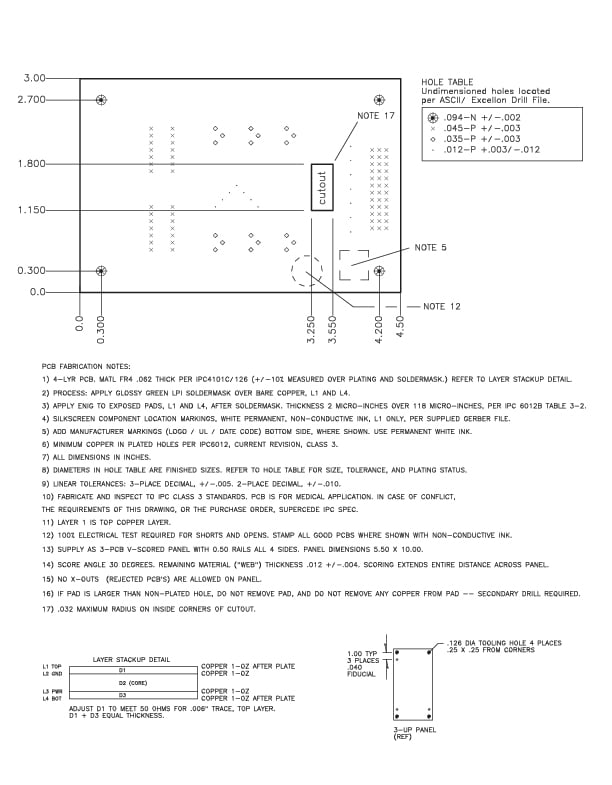 Example of Fabrication Notes in Drawing
Summary
Before you find yourself making your printed circuit board purchasing decision based solely on the lowest cost, consider what may be omitted from your quote. Pricing for the lowest bid may not have included a material or process that meets your standards if the circuit board supplier did not know about the requirement from the information they initially received.
When discrepancies are discovered, progress is halted until the resulting changes to circuit board price and/or lead time on your order are worked out. To lower your risk, always send standard PCB fabrication notes with every order.