When sourcing custom cable assemblies, customers seek the highest quality design and manufacturing capabilities at the lowest costs. Due to these factors, many customers source their custom cable assembly builds from offshore manufacturers. These cable assemblies may consist of ordinary data cables, low voltage wire harnesses, high-resolution video cables, or something completely custom.
There are numerous benefits to using offshore manufacturing options, however tariffs and trade agreements including the TAA (Trade Agreements Act) can impact pricing and availability, requiring additional manufacturing options to support the needs of today's global marketplace.
World's Custom Cable Market Trends in Asia Pacific
The Asia-Pacific region has seen the highest and fastest compounded annual growth rate (CAGR) since 2018. China, Japan India, Malaysia, and other Asian regions hold the largest market share in this industry.
China is leading the pack at $42.7 billion in 2017 and is expected to increase up to $61.7 billion by 2022. China holds a dominant grasp on the electronics market, including electronic components, as well as leading the way into the electric vehicle market.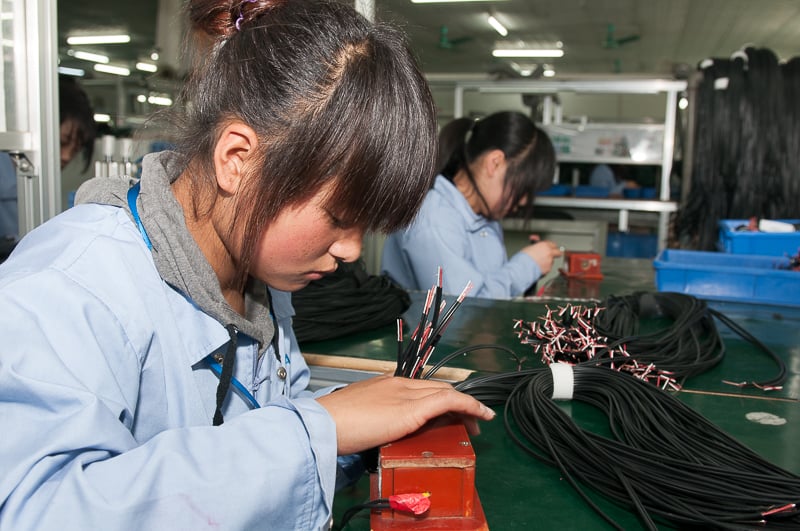 Cable assemblies being manufactured in China.
Many people look at China as the leading world manufacturer due to its low raw material, labor, and manufacturing costs as companies in other regions would outsource their manufacturing to the region. Yet, many customers are eyeing the manufacturing capabilities in countries with more favorable tariff structures and that are TAA complaint.
Taiwan's Growing Electronics Manufacturing Sectors
While a majority of the electronics industry growth has been from China, Taiwan has been building its component manufacturing sector since 1996. Taiwan also has a more favorable tariff structure and is trade agreement compliant. Today, Taiwan has one of the world's leading semiconductor chip and component manufacturing markets as the country has achieved annual sales of $4.4 billion in 2017. Taiwan is now considered to have the second largest semiconductor foundry manufacturing economy in the world. As 5G capabilities are rolled out across the globe, manufacturers are making serious considerations on how to leverage Taiwan's capabilities in creating the components necessary to ensure high quality connectivity.
Some of the main reasons why Taiwan has such a commanding presence in the electronics manufacturing sector is due to its investments in education. As many as 10,000 information systems management and computer scientist students are graduating every year. In addition, many Taiwan developers and U.S. expats have decided to bring their manufacturing companies and operations to Taiwan due to the following benefits:
Existing infrastructure
Relaxed regulatory environment
Stringent intellectual property protections
Ease of raising business capital
TAA compliant
Besides semiconductor manufacturing, other custom electronics being designed in Taiwan include biomedical devices, switches, routers, optical technology, automotive electronics, and biotechnology. So, obtaining custom cable assembly components from manufacturers in this region may be ideal for customers who need these products. However, there are certain aspects to take into consideration when working with manufacturers in other countries, such as how the Trade Agreements Act may impact purchases of electronics and custom cables.
What is the Trade Agreements Act?
To ensure open and fair international trade between countries, the Trade Agreements Act (TAA) was put into place for products that are purchased under government contracts and GSA Schedules. A manufacturer in a country that is part of the TAA is required to make products that have undergone substantial transformation in the country.
What exactly does this mean? A country that is TAA compliant must create or make changes to any product that is purchased or shipped to other countries. They cannot take a product from a non TAA-compliant country and sell it to another TAA-compliant country without making any changes to that product.
So, a customer can request a custom cable assembly from a manufacturer in another country. The manufacturer may obtain raw materials from suppliers in non-TAA countries, so long as those materials are designed and produced into a brand-new product. Then this product can be sold to their customer.
The TAA regulations extend to the United States, designated countries, and countries that have reciprocal trade agreements with the United States as well as Caribbean Basin countries and specific "least developed" countries. There are roughly 129 countries following the TAA.
Any company that provides products that are not TAA-compliant may face suspension, substantial fines, and/or award cancellation. The TAA requirements usually apply to products that cover a dollar threshold, such as services and goods of $194,000. However, many customers and manufacturers are ensuring products meet the TAA requirements even when under this dollar threshold.
Even if a customer requests a product that is not TAA-compliant since they have not been awarded a government contract, many contractors may still require this compliance. One of the many reasons is that the customer might sell the product to their end client, which will be used in some government-related application. Ensuring products are TAA-compliant and come from countries that follow these regulations can ensure a smooth contracting process without facing fines from noncompliance.
Obtaining TAA-Compliant Custom Cables from Taiwan
Luckily, Taiwan is considered a TAA-approved country. So, customers may seek out custom cable assemblies from manufacturers in this region. There are several reasons why Taiwan may be ideal for customers who need custom cables versus obtaining manufacturing processes from other countries such as China or Malaysia.
Proximity to SE Asia Supply Chains
Raw materials from Africa and the Middle East are constantly being shipped and delivered to suppliers who are part of the Southeast Asia supply chains. Selecting a manufacturer in Taiwan allows a customer to take advantage of these supply chains while keeping procurement costs within company budgets. Suppliers that are close to manufacturing plants will also benefit from lower transportation costs and shortened lead times.
Existing Infrastructure
Unlike many other countries, Taiwan already has the existing infrastructure to support complex electronics contract manufacturing. With set policies and regulations, along with established manufacturers, supply chains, and contracts, the country has the assembly lines, experienced engineers, and equipment to handle short and long production runs for custom cable assemblies.
Consolidations in Hong Kong
Due to the ongoing trade war between the U.S. and China, Hong Kong markets have been undergoing consolidations due to oversupply and customer demand reductions. This unique opportunity will allow other Southeast Asia markets to further promote themselves and their capabilities to other countries, including the U.S., by emphasizing their production prowess without experiencing any overburdened regulatory environments.
Taiwan for High-Level Production
For contract manufacturers, they are turning to the high-quality semiconductor and component expertise in Taiwan, while sending lower-level technology manufacturing on to China. This aspect has led to Taiwan marketing itself as a high-quality manufacturing environment. With the abundance of computer scientists, information management specialists, and engineers located in the country, Taiwan is ready to experience significant growth in its electronics market economy while China's economy cools off due to the trade war as well as recent pandemic fears.
Summary
Epec has tremendous expertise designing electronics, manufacturing products, and managing the supply chains in southeast Asia. If there are contractual requirements that prevent manufacturing in one region, we have flexible manufacturing options to source your technology elsewhere. If your project requires a TAA approved country of origin, Epec has extensive support building custom cable assemblies and other electronics in Taiwan.