Over the past several years, the label "hybrid supplier" has become more popular among industry leading product and service companies. The term means combining multiple business elements with a unique process to create a mixture suited to fulfill all of a customer's needs under one company. While this sounds like a very attractive business model for a customer to use, it is much harder than it sounds.
A hybrid supplier in the electronics industry acts as a manufacturer, distributor, and technical design firm for their customers. The challenge for a company to truly accomplish this is that they need to invest significantly in becoming very good at each one of the three facets. Taking the traditional PCB industry for an example, printed circuit board manufacturers who are no longer in business wanted to add distribution to their service portfolio. The problem was that they involved the same people in both sides of the business, so which one took precedence? Did anyone at the company truly know how to manage a global supply chain or did they just assume that because they knew PCBs that would be enough?
In order to be a great, you must have dedicated and experienced people in every discipline of your business or you are nothing more than a low value ad broker.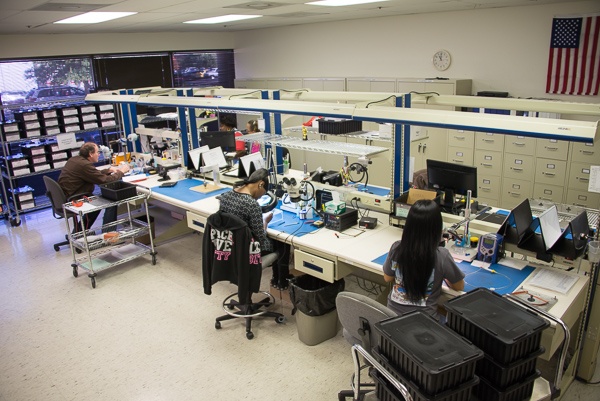 Epec's User Interface Engineering and Cable Assembly Facility in Largo FL
Key Factors for Success
1. They Act Like A Manufacturer – AT ALL TIMES.
Most hybrid companies manufacture small portions of what they sell at facilities they own. To do so they must invest in systems and people that allow them to respond and react like a manufacturer, even though they don't own every factory. It is far more than a vendor-customer relationship, and requires the same infrastructure as any manufacturing company. The manufacturing company must be able to employ highly trained product experts, oversee production, engineer custom solutions, and have in-house quality teams at factory locations and in warehouses. Additionally they must have the ability to manage and quickly address customer quality issues through their domestic resources and never have to wait to talk to a "vendor" to get an answer.
2. Supply Chain Is A Core Competency.
Too many manufactures believe that product knowledge is the only expertise that a company needs to sell a product to customers. Global supply chain management is much different than running a production facility. How can the same people do both? Along with supply chain expertise - hybrid companies contract out manufacturing as needed to the manufacturer that they have approved for the specific type of product based upon the technology, delivery, and quantity. They don't get bogged down by force-fitting customers into their open factory capacity. It may not be best equipped to manufacturer that product. As a result, they effectively have unlimited capacity and are not handcuffed to specific technology, quantity, or delivery. On top of that, hybrid manufacturers with financial stability are able to hire supply chain professionals and allows them to manage inventory for customers helping their customers be more successful.
3. REAL Investment in Technical Support for Their Customers.
Technical and design resources are key for the success of a hybrid model as they are basically an extension of their customers engineering department. Traditional manufacturers and distributors have no problem making a product if they are given a perfect specification. Hybrid model suppliers on the other hand look to work with their customers at the development level to make a product more manufacturable and cost effective. Whether it is full product design or supplying specific engineering resources, they have the in-house staff required to provide customers with that level of service. Hybrid companies realize the value in helping a customer get to market faster, with lower costs and the best quality product.
Conclusion
As the electronics manufacturing industry pivots more towards hybrid suppliers, customers need to do their homework to really understand if that supplier has invested in the three areas above. There are several companies in various industries that have invested and clearly have the right formula for success. In the highly competitive industry of packaging, Berlin Packaging of Chicago has revenues of over $800M by using this same strategy and executing it better than anyone else. Hybrid suppliers are the next evolution in numerous industries, but they require investment, dedication, and the financial resources to truly add value to their customer's needs.