Overmolded cables are used in countless applications across almost every industry. The reasons to use an overmolded cable design are numerous, but the primary reason is to protect the electrical contacts while offering strain relief.
With a properly designed overmold you can also significantly improve the pull strength, but too many designers and engineers think of overmolding only for its mechanical design characteristics. Sure, it is the best ruggedization solution. I'm guilty of this too: "If your design is failing from intermittent connections or pins are loose, you should consider an overmolded strain relief." But the overmolded region of a cable assembly offers open real estate to add cosmetic customization, otherwise, wasted space. Some of these areas are handles or grips, places in plain view of the user.
These overmolded regions provide a surface to add logos or your company's name, even a website. These regions can provide other useful markings or color schemes and match pantone colors. The point is for not a lot of money, and when planned properly, overmolded designs can be manufactured with custom colors, logos, and many other necessary markings.
Examples Of Artwork Or Markings In Overmolded Cables
Add polarity markings to connectors "+" "-"
On this cable assembly, the central cord consists of two individual 22 AWG conductors, one red and one white. The red conductor is terminated to the "+" marked pin, and the white conductor has been terminated to the "-" pin. This feature provides a visual confirmation to the user for polarity.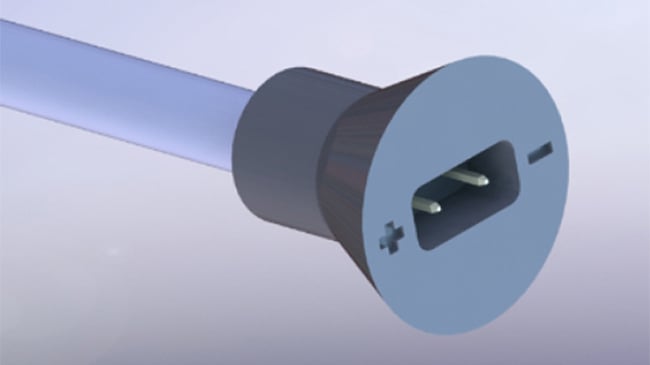 3D model of a custom cable connector with polarity markings.
Company logo
Adding your logo can help branding and product awareness. The logo can be created using programs such as Adobe Illustrator, and the artwork can then be designed into the tool. The tool must have a physical feature machined into the interior cavity. It's best to consult with your designer to confirm the allowable font size and depth of the marking.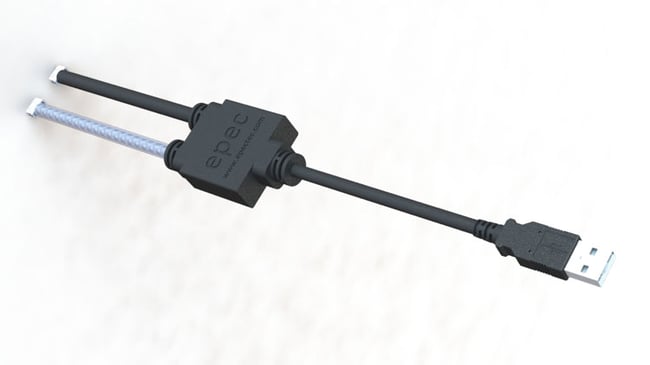 Overmolded regions provide a surface to add logos or your company's name, even a website.
Tool marks
Adding tool marks or other defining marks to your overmold can help track and manage specific lots of material produced from a specific set of tools. This can be employed as small text in a non-critical area. Adding a small "e" for Epec could be a way to identify all parts produced by Epec.
Color matching
Depending on the material selected for the overmold, one can colorize the overmold material to match a specified branded color, or, PMS pantone color. Color matching can be done using a swatch, but the best way to effectively match colors is to use pantones or other defined color systems.
What Is The Cost Impact?
Depending on the complexity, it really is quite manageable, and depending on the project, there may not even be a cost impact at all. There have been projects that require a $200 tooling modification and others that could be in the thousands of dollars if multiple colors and operations, and therefore tools, are needed.
Keep Out Zones
It's important to remember that some areas of the overmold may not be suitable for text or artwork to be added. If there is an interfering design feature, it can inhibit the ability to make the tool function. Sometimes the injection points into the mold could interfere with artwork, so it's always best to consult your designer as you develop a concept.
Summary
Whether your design requires an ordinary black PVC overmold material, or a custom blended thermoplastic with fungal resistance, all overmolding operations that use a hard tool are candidates for cosmetic customization. These hard tools are molds made of upper and lower halves, each machined from aluminum, steel, or 3D-printed materials.
Removing material from the mold to incorporate logos, artwork, or other customization features is generally low-risk and can be performed after the tool is proved out. But if the customization detail requires sizable design changes, or changes that would require a new tool to be made, the cost and schedule impacts must be accounted for.
Ultimately, as long as the desired customization features do not impact the form, fit, or function of your overmolded cable assembly, the sky is truly the limit for tailoring your design and bringing your solution to market.