There was a time when "made in China" was synonymous with "cheap, poor, quality products". Buyer beware was a common theme with outsourcing to Asian PCB manufacturers. So how did Epec approach this challenge and succeed? It was by managing quality through intense auditing, training, and qualification. Epec understood at a very early stage that first class quality product from Asian manufacturers would require constant presence, on-going training, and persistent auditing.
PCB Manufacturing Selection Process
One of the initial steps was to locate an office in the heart of manufacturing in China and staff it with exceptional personnel from the area. Staff in China was trained to uphold Epec's strict policies, procedures, and all were well versed in both their native language and English. This helped remove the traditional communication barriers typically faced when dealing with overseas manufacturers. Over the course of selecting the best choice a lot of facilities were visited and audited for quality, capability, and capacity – by both the newly created Asian team and U.S. based team members.
All certifications were verified in addition to procedures and manufacturing instructions. We checked the age and condition of equipment being used, including preventive maintenance logs, and the overall cleanliness of the manufacturing floor even pointing to areas that need to be clean room environments. Material inventories and storage conditions were checked against manufacturer recommendations, with expiration dates scrutinized. Operation process parameters and records were reviewed over 6-month time frames, insuring compliancy and proper actions when warranted.
Assembling Our Asia Team
A lot of ciruit board facilities were eliminated so we could narrow down our choices. The common factor we realized is that we would have to contend with was lack of manufacturing knowledge of engineered products. The best facilities and newest equipment doesn't automatically equal good quality. We realized a U.S. team's presence of industry experts would need to be maintained until the facilities we chose were fully trained and efficient that could consistently produce top quality products.
Epec's domestic team members were at the selected suppliers multiple times annually, with stays as long as 2 months. We trained them to exercise proper manufacturing flow and to eliminate bottlenecks and delays. The team also fine-tuned operating parameters for the new equipment by working closely with production floor management and equipment suppliers. ISO standards were reviewed and so were our expectations with product quality.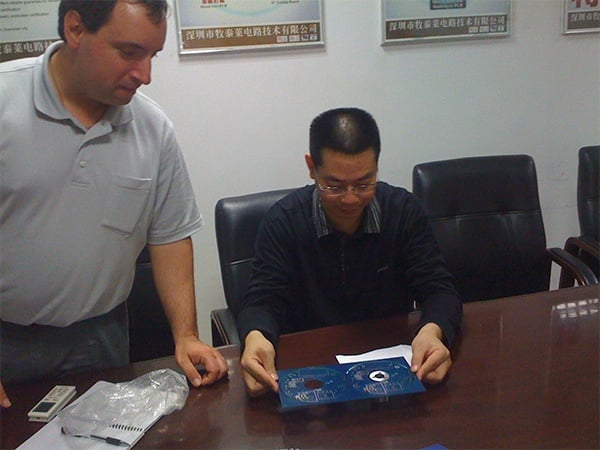 Constant manufacturing presence by our U.S. based quality team is part of our process to manage quality in Asia.
Epec employed inspectors that were certified to IPC standards and placed at each facility to inspect our products only - supplied with Epec's high quality inspection tools. Other equipment supplied provided to the team included their own laptop computers and digital cameras. The team was our 24-hour, onsite, ears and eyes for our products. In combination with our office staff it helped control work in process and ship dates.
Added Value Services
As we continue to expand our product lines and add value services this model has not changed. We continue to control our exceptional supplier qualification procedures through onsite inspectors, quarterly auditing by our quality team, and a continued U.S. team presence. Our in depth audits review all manufacturing processes and all aspects of the quality management system. We focus on Epec's work in process insuring the manufacturing instructions for these parts match our specifications. Raw materials used to build our parts are checked for quality and accuracy to the stated required materials. Manufacturing travelers for our orders are reviewed for proper processes and are required to receive management approval to transport work through processes. We compare reported work in process scheduling with actual production location of our orders.
Conclusion
Epec continues to use the best available technologies to advance our quality control with our Asian manufacturers. Utilizing cloud based ERP and quality systems, our Epec staff in Asia works in conjunction with our U.S. staff to supply real time data and support for all our product lines. Epec has dedicated itself to be a leader in high quality engineered products, and through our comprehensive supplier management and "committed to excellence" team, we have eliminated the "made in China" concern.