When we think of manufacturing in the 21st Century, we picture automated machines rapidly pumping out new products with ease. So why can't the process of complex wire harness manufacturing become fully automated as well? To answer this question, we need a deeper understanding of cable harnesses and how they are prepared.
A cable harness, also referred to as a wire harness, cable assembly, wiring assembly, or wire loom, is a grouping of wires and/or cables that are used to transmit signals as well as provide electrical power if needed. The wires and cables are joined together using a combination of straps, cable ties, cable lacing, tubing (either shrink tubing or non-shrink tubing), sleeving, electrical tape, conduit, and braided extruded string.
A wiring assembly is designed according to both geometric and electrical requirements of the larger piece of equipment it will ultimately be installed in. A simple harness might consist of as few as three discrete components, though they frequently feature tens or even hundreds of unique wires and components. Wires and cables used in construction of a cable harness include hook-up wires, coaxes, multi-pair cables, and multi-conductor cables. A complex wire harness may include any combination of these various types of wires and cables, depending on the design of the harness.
Common Uses For Wiring Harnesses
The most common use of cable harnesses is within the transportation industry, where they are found in everything from cars to airplanes. Additional applications for wiring harnesses include construction machinery, industrial equipment, data communications related equipment, white goods, consumer products, inside box builds, and other electro-mechanical components.
A wiring assembly simplifies the manufacture of these products by integrating all the wiring into a single construct that allows for a drop-in installation. For example: automobiles and planes have many components requiring multitudes of wires, which can add up to miles in length! A harness simplifies installation of all wires by grouping them into one compact bundle that can be installed in a single operation versus running each individual wire, decreasing installation time. By joining the wires, terminations, and other components into a harness, they are secured much more effectively against the effects of vibrations, abrasions, and moisture.
Using a wiring assembly also optimizes space inside of the larger component and decreases risk of shorts during the initial install and later field repairs. Incorporating the use of flame retardant sleeves into the harness also aids in lowering the risk of electrical fires inside of the larger piece of equipment.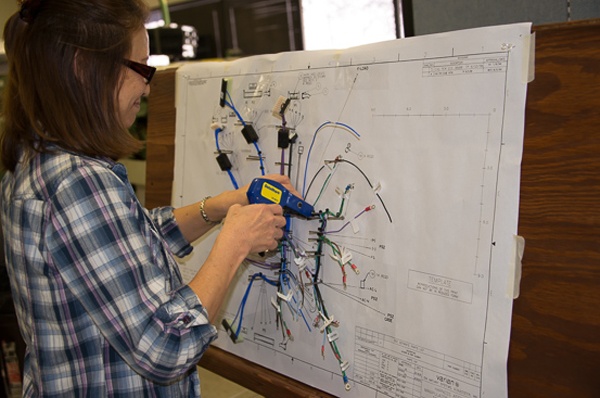 Complex Cable Assembly Harness Being Assembled
Once the design of the wire harness is completed, a full scale diagram is often used to aid in the assembly preparation and accelerate assembly. Using the diagram provided, the wires are cut to specified lengths with proper wire cutting machinery. During the cutting phase the wire ends may also be stripped of insulation in preparation for further manufacturing steps.
The newly cut wires may also be printed at this stage for identification of the complete harness, though in some instances, the marking is completed in a separate operation. With the ends of the wires exposed from the stripping operation, they can now be attached to any required terminals or connectors. Again, the attachment of the terminals or connectors may be an automated process done on specialized equipment.
The terminated wires and cables are routed, assembled, and clamped together on a specialized workbench known as a pin board or assembly board. This workbench is a full scale layout of the harness and is built in accordance with the layout specifications detailed at the initial phase of the design process. The harness is fitted with any necessary ties, protective sleeves, conduit, or lacing. Once the harness is completed, it undergoes quality testing then gets shipped for inclusion into the larger piece of equipment for which it was designed.
In contrast to the trend of increasing automation, complex wire harnesses continue to be primarily manufactured by hand, due to the variety of different processes involved.
Non-Automated Wire Harness Manufacturing Processes Include:
Installing terminated wires in varying lengths
Running wires and cables through sleeves and conduits
Taping the harness with fabric tape at branch outs
Conducting multiple crimps on specified wires (more than one wire into one terminal)
Binding the various components with tape, clamps, or cable ties
Because of the difficulty to automate these processes, manual production remains more cost effective than automation. However, here are some parts of cable assembly manufacturing that can be automated.
Effective Cable Assembly Automation Can Include:
Cutting and stripping the ends of individual wires by using specialized cutting machines
Crimping terminals on one or both sides or the wires
Plugging of wires previously fitted with terminals into connector housings
Soldering or tinning of wire ends
The last phase of manufacturing a complex cable assembly involves testing for electrical functionality. To partially automate this step of the process, a test board is designed. The test board will have matting connections for each termination of the harness. The harness is "plugged" into the test board and checked electrically for any faults, such as shorts or opens.
Conclusion
While automated assembly is thought of as a faster, more efficient means of manufacturing, the level of quality and detail required for complex assemblies require a more hands-on, personal approach. Due to the lack of automation, wire harness manufacturer processing of complex cable harnesses takes longer than other types of cable assemblies, ranging from a few days to several weeks, depending on the complexity of the harness, but yields a superior quality product.