The future of manufacturing in the U.S. is set up to be driven by volatile economic conditions, 3D printing, robotics, mobile technology, the Internet of Things, embedded devices, and other emerging technologies. Forecasting the future is always risky, but there are several factors converging right now that bring more clarity as we begin our journey into the second decade of the 21st century.
Electronics manufacturers will continue their rise in prominence as the future gives way to even more technological advances.
Factors That Will Change Manufacturing
Here are some of the factors that will change manufacturing during the second decade:
Embedded devices (MEMS) and the Internet of Things
Micro-Electro-Mechanical Systems, or MEMS, are "miniaturized mechanical and electro-mechanical elements" that are embedded in equipment, vehicles, appliances – virtually everything – and the information these devices collect now travels on the Internet of Things (IOT). Wired.com says people are not yet thinking big enough when it comes to the convergence of miniature intelligent devices and the network that handles the dissemination of the data these devices collect. Called machine to machine communication, it relies heavily on cloud computing and the world of technology manufacturing is set to explode with new possibilities. Miniaturized PCB's will play an extremely important role in these industries of the future.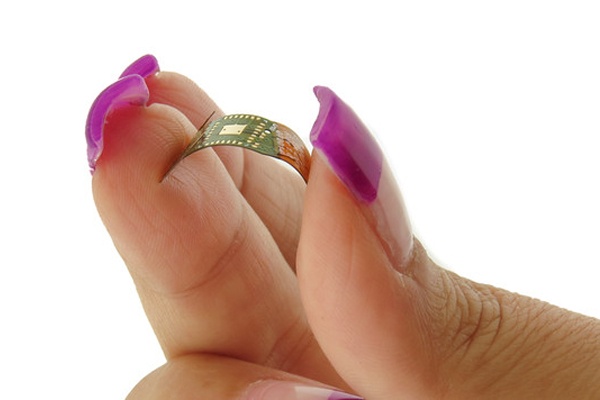 Miniaturized Flexible Circuit Board Used in a Portable Device
Smart Devices Lead the Way to the Future
Space age like devices dubbed smart devices represent a multi trillion dollar market ripe for exploitation. Manufacturers are rapidly embracing these converging technologies as we move from smart phones to smart devices. Nearly every manufacturer of the future will either be making smart devices or depending on them as part of their manufacturing process.
3D Printing and Material Science Advances
This Forbes Article highlights some of the material sciences breakthroughs already in play and describes how 3D printing is revolutionizing whole industries. "If you can conceive it, you can print it" will be the mantra for advanced electronics manufacturing in the future. 3M is developing spectacular films made entirely from composite materials that could displace conventional lighting systems. Autodesk is partnering with a motorcycle manufacturer to design and print automobile components. The new components are lighter, cheaper and more durable than the heavy aluminum parts they replaced.
Increased computing power leads to Mass customization
Mass Customization is set to finally be the reality envisioned several years ago by author Joe Pine. The availability of almost unlimited computing power and Big Data accessible by every engineer in the world will spark an increasing number of products customizable to the needs of nearly every individual consumer. Even in industrial applications, customers will demand very specific and customized products and COTS will become less common.
In his book, Mass Customization, Pine sites one example of this new phenomenon, "Lutron Electronics of Coopersburg, PA makes lighting controls any way a distributor or consumer likes them, including matching colors, 'ganging' them together, or providing adaptive solutions so people can hook different lights together and customize any way they like."

He predicts "We'll continue to see the shift from mass producing to mass customizing goods, while recognizing that those goods enable experiences by customers or customer's customers. Companies that make this happen faster than their competition will increasingly be the winners." "If you want it, you can have it" or maybe the old Burger King slogan "have it your way" could become the marketing slogan of innovative manufacturers who embrace mass customization. Here again PCB's with increased intelligence built in will play a significant role in these products of the future.
Research and Development More Important Ever
Brian David Johnson, Futurist at Intel says that "it's incredibly important to understand what products will look like in the future." His team of engineers, researchers and developers are designing chips for products that don't even exist yet. It takes ten years to develop a new microchip so they need to observe what people are doing today and anticipate how they may use similar products in the future. Battery and power management technologies need to change to be able to keep up with the demands from end users to make everything portable. As we move into an even more consumer driven economy, manufacturers must understand how current trends are shaping the demands of the future.
Execution Models will Change
With all these technological changes converging, manufacturers must also revisit their execution systems looking for better ways to accomplish the same thing. Referring to them as Manufacturing Execution Systems, electronics manufacturing companies in the Aerospace and Defense sector are embracing changes across the entire value chain. They recognize that workflow and process automation needs to extend far beyond the shop floor to encompass the entire value chain including supplier networks, delivery strategies and more. Manufacturing Execution Systems will depend on Agile Software Development and they will play an important role in how manufacturers in the next decade set themselves apart from their competition.
Summary
Manufacturing companies of the future will need to embrace technology at increasingly higher levels as the cloud, Big Data, the Internet of Things, MEMS, 3D Printing, mass customization and other innovative ideas transform the industry entering 2020. Even old technology manufacturing companies need to have a plan to keep relevant as the barrier to entry in most industries is getting smaller every day. Companies who embrace the technologies, optimize resources and make the necessary changes to their business models will be the winners of the 21st century.