Back when laser drilling equipment was north of $1M, or when plasma etch equipment was so dangerous that it needed to be housed in a special room, only the largest companies could afford to purchase the equipment required to manufacture the highest technology printed circuit boards (PCBs). The only way to maintain good yields was to staff a squad of highly experienced engineers who understood the nuances of that specific facility equipment. Today, times and technology have changed dramatically to the point where this is no longer the case, allowing for more efficient mid-sized high tech PCB manufacturers to exist.
High End PCB Equipment and Capabilities
Present day, the cost of the highest end equipment has come down while the capabilities have improved significantly. A lot of printed circuit board processes that were previously done by hand or registered through a physical process are now automated for even more accuracy and reproducibility.
With the invention and continuous improvement of Laser Direct Imaging (LDI) technology, reputable printed circuit board manufacturers can produce a PCB with 2 mil lines and spaces and with solder mask dams as low as 3 mils that won't come off your circuit board during a basic tape test.
Improvements such as computer numerical control (CNC) drilling equipment with 8-heads or laser jet legend printers to replace silk screening. Flying probe testers that are so fast, what used to take hours can now be done in minutes. This all allows mid-market PCB manufacturers the ability to accurately and quickly produce the highest level PCB's in the industry.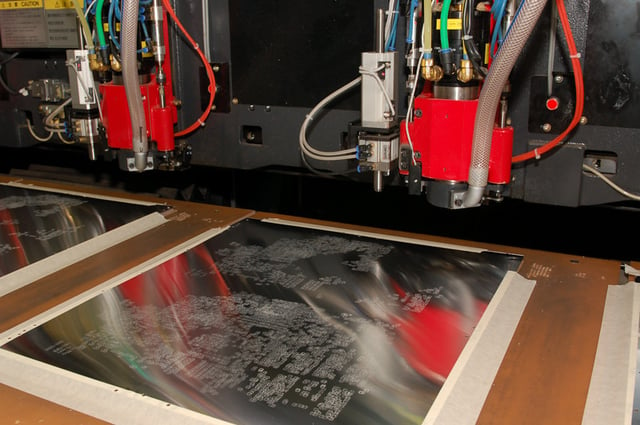 Printed Circuit Board CNC Drilling Equipment
The Current Challenge In The PCB Industry
The challenge as an industry today is that there has been consolidation of large printed circuit board manufacturers in the US, Europe, and even China. There is a real need for companies to manufacture the low-to-medium volume of high technology PCBs. While tons of companies can do the lowest technology PCBs quickly and cost effectively, there exist very few that have made the investment in people, processes, and equipment to produce PCBs that contain the more advanced features such as:
Blind and Buried Vias
Controlled Impedance
Via in Pad
Fine Lines and Spaces (2/2)
Heavy Copper and Multiple Copper Thicknesses on the same layer
Hybrid PCB's (RF & FR-4)
High Density Interconnect (HDI) and Microvias
Back Drilling
Military and ITAR Products, just to name a few….
Investment in Engineering
Along with the factory capabilities, PCB manufacturers must also invest in the engineering personnel that have the level of experience in manufacturing high technology PCBs. Quality personnel ensures that all DFM and DRC reviews are being completed both accurately, and timely. Smaller PCB factories which have one guy as the head engineer, head production planner, and head custodian isn't conducive to moving quickly and meeting tight customer demands.
Now, if you are a company like Apple that needs millions of circuit boards per month, you definitely need to work with companies that have the balance sheet to have gigantic facilities fully stocked with hundreds of pieces of equipment to support these large orders. For a lower tier OEM that needs 100 pieces of a four layer board every month, you can afford to work with a low cost supplier that is not necessarily financially sound because your risk of finding a new supplier to meet your low volume need is very low. The reality is that OEMs with high technology PCB needs must work with a circuit board manufacturer that does $25M in sales or more to minimize risk. Those that have invested in technology and are positioned to be able to absorb the typical boom and bust cycles of printed circuit board manufacturing.
Conclusion
The fact is that there are not as many capable circuit board manufacturers around anymore, but they do still exist. The myth is that only the largest PCB manufacturers can produce high technology circuit boards, which has been debunked. Mid-size circuit board manufactures with the proper equipment and engineering are now more capable of providing the highest technology printed circuit boards. Ultimately, mid-size manufacturers with streamlined operations have proven much faster while providing often superior quality as the largest PCB manufacturers in the business.