As a designer and manufacturer of custom battery packs for high reliability applications, our customers are continually demanding that we make packs that are smaller, have more power, run longer, and all at a competitive cost as they try to make their devices more portable.
Given the additional challenges surrounding the safe operation and maintenance of lithium batteries, there are many specific items that need to be addressed when developing a battery pack for a portable device.
Challenges of Higher Power Requirements
High power requirements of battery packs present unique challenges for manufacturers relative to understanding the wireless connectivity and the wide input voltages that the device will encounter during potential charging scenarios.
Add those challenges the more traditional aspects of a custom battery pack design that may include thermal regulation, EMI/EMC protection, higher operating frequencies, the supported power path, charge/discharge cycles, battery life, and managing all device inputs as it interacts with the battery, and designs become very complex.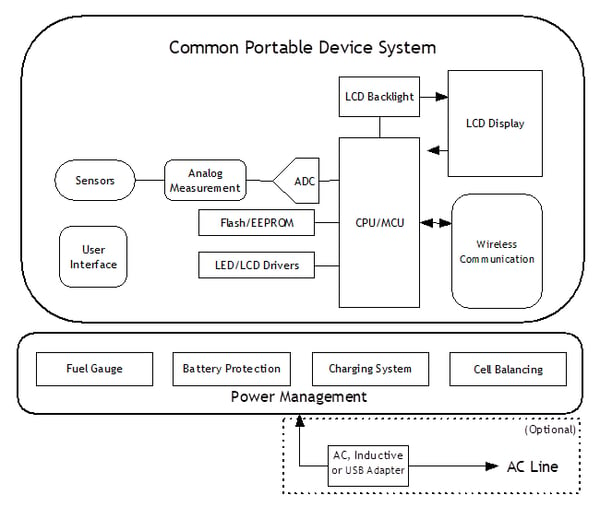 Portable Device System with Power Management
Intelligent power management has become mandatory as portable devices now combine wireless communication, navigation, touch screens, and other technologies which require increased power consumption. For example:
The size of the display and the graphics operations of portable devices are increasing by a large amount.
New process technologies for the processors operate at higher frequencies.
Portable devices become smaller and slimmer which requires a reduction of the number and the size of the components.
Often the voltage source is "incompatible" with the load. A buffer needs to be placed between the source and load to regulate the voltage and/or current to reduce power loss.
Meeting These Power Requirements
As you design and develop custom battery packs, you must meet all these challenging requirements without sacrificing safety, quality, or manufacturability. Below are a few specific ideas that are commonly used in the best and longest lasting battery pack designs.
Reduction of Power Consumption from the Hardware
Working with your design team on truly understanding the functionality of your application and how often and how fast the different parts of the electronics must be accessed. Small changes in how a device operates such as turning off unnecessary hardware, minimizing the number of times the hardware is accessed or reducing the speed of the data being transferred between components can add hours to battery life.
Implementing Simple Protectors and Analog Front Ends (AFEs)
High tech companies like Texas Instruments have developed AFEs that are configurable ICs that are designed to interface with multiple sensor platforms which reduces the overall number of components needs to monitor the health of the battery pack.
Using Sophisticated Battery Management
Custom battery packs can be manufactured with monitoring and balancing electronics for longer run times and extended battery life. The battery management system (BMS) provides many functions including safety protection, charge and discharge oversight, and thermal management.
One of the items that is often overlooked in the BMS is using the system to provide real time cell balancing. While the cells may only have slight variations in capacity, voltage, and internal impedance at the time of build, cells will get out of balance during use as some cells discharge more quickly than others.
Design for Shorter Charging Times and Instant-On Operations
Some charging systems are designed to develop an intermediate voltage between the power port and the battery via a current-limited switch. This allows the device to power both the linear battery charger and the system load with priority going to the system load. By decoupling the battery from the system load, charging can be carried out opportunistically and offer instant-on operation. This is because the intermediate voltage is available for system loads as soon as power is applied to the circuit which allows the end product to operate immediately when plugged in, regardless of the battery's state of charge.
Summary
Rechargeable battery packs are vital to portable electronic devices in every industry from medical to military, and from aerospace to industrial. Working with an experienced production partner that can help you through the design and development along with providing world class manufacturing is the best way to assure that your battery solution will exceed the needs of your customers.